20x60 High Peak Event Tent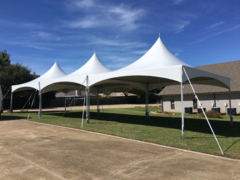 Description
20x60 High Peak Event Tent
With 1200 square feet of covered area this tent has enough room for many different events. It's perfect for a corporate event, family gathering, or even backyard parties if you have the space. This tent can comfortably sit 80-120 guests or even more depending on seating arrangements. You can use every square inch of this tent because the center poles are suspended on cables above which also helps the tent look very elegant and professional. This tent can also be combined with other tents to make the perfect arrangement for your needs.

We have the ability to expand up to 9 tents long equaling 20x180 feet!
Here are a few example layouts for your event.